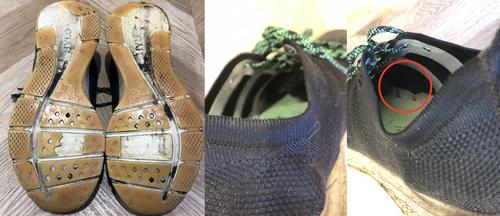 I've had these so long they've renamed them from Hylo Run to Hylo Light and the Hylo Run name is now being used for a much fancier shoe that delivers on one of my main complaints and seems to be less firm. If I was still doing a lot of running I would be all in on the new Hylo Runs, but seeing as how I'm only doing about 15km a week now and doing faster runs (so a firmer shoe is better) and the fact I did a marathon and lots of other long runs in the Hylo Light it's impossible to justify spending £140 on the new Hylo Runs. Instead I will be getting some more Hylo Lights in the sale for £79.
The Hylo Light though are a hard wearing shoe. These have done over 750km of running and hundreds of kilometres of walking. I didn't track the walking, but in the months I was injured last year I started wearing them for my walking recovery rather than just letting them sit there and then when I had recovered I carried on wearing them for dog walking. I know you aren't meant to walk in your running shoes, but that is my life*. Anyway, all that walking explains the heel wear.
At this stage I have replaced the laces and the insoles (I've worn through both). Replacing the laces is actually not a bad idea - the supplied ones have no give in them whatsoever - as using ones with a bit of stretch means you can lace them up, leave them done up and slip them on and off.
I did have to cut out two bits of the internal cage on the medial side which you can just make out on the photo (right-hand image, circled in red) compared to the lateral side left intact (middle image). Those gave me the worst blister ever. Asides from that they are a really good shoe.
* I was genuinely excited when A got me a pair of converse for Christmas, since I needed some new shoes, only to be told they were for "best" only and not for waking to the dogs; back to the running shoes then.