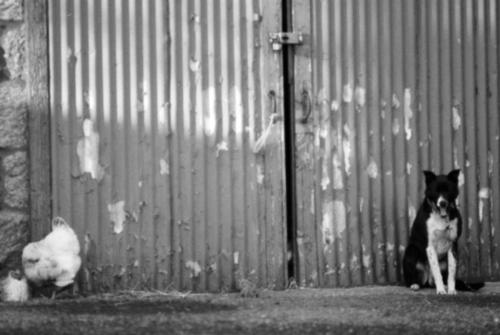 Reminds me of Way of the Exploding Fist on the Plus/4. If you are wondering, the chickens always won. Poor dog. She's mostly (Postman excepted) a very good natured dog, really, because she could have quite easily, and justifiably so, have killed the chickens, but she knew she wasn't allowed to so all she could do was bark at them. The chickens also knew Floss wouldn't really do them any harm and would brazenly flaunt this by stealing her food from under her nose. I think this has somewhat driven Floss mad.
Although very much an outside farm dog (she was born and raised on bales of straw) she's having a turn at being a house dog after her barn got demolished.
Poor hobbly Hatty, the one walking away from Floss with her head tucked in her wing, died at the end of 2014. I wasn't sure at the time whether her being trampled by a pony (hence her hobble) had contributed to what seemed like an earlyish death, but one of her "sisters" died this year and I've realised it is just the sheer free-ranging nature of their lives that has worn out their bodies a little early. Many people have free-range hens, but ours quite literally are: They are free to walk miles and miles every day and so do (makes finding eggs tricky sometimes).
Ilford FP4 Plus, Praktica BCX, Aberdeenshire, April 2014.