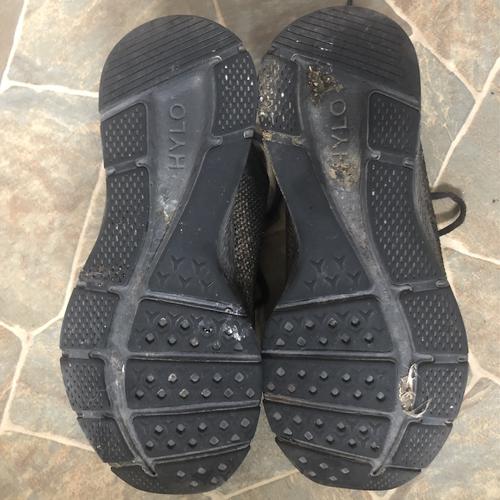 Ran my last run on them yesterday last week (it takes me so long to write anything), taking them up to 800km. I'm sure they could do further, but that seems far enough on a pair of shoes - no point risking injury. Have popped them in the wash and will send back for recycling. Yay!
I'm a convert. No tears, rips or glue coming unstuck. I am definitely going to get another pair and these are replacing Nike Free RNs for me as my preferred road shoe.
My biggest gripes when I first reviewed them were:
That they felt a bit firm. I think I somewhat solved that by putting a bit of extra insole under the front, which also reduced the drop. I guess I also got used to them. I've run a marathon (my fastest), a 40k, a couple of 30s and probably a lot of 20k to 25ks. As well as shorter runs of course. No issues since that first long run.
That they weren't that grippy. I think you can gauge from the photo that the soles are hard wearing - They look almost like new after a wash (pre-wash in that photo). I would prefer something a touch softer and grippier, but saying that I ran in these in the wet, ice, and snow and have never actually slipped.
These are a really good shoe. I hope they don't fuck up V2.