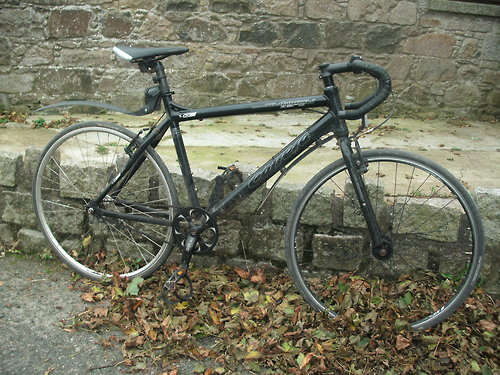 Can't have a blog about cycling without a photo of the bike, can you? So here it is. This is what it looked like when it was pretty much as new, about a year ago.
It's a Carrera Subway Zero (so nothing flashy), I got through the cycle to work scheme. The following bits and pieces added:
Some cheap as chips toe clips from eBay (would love clipless, but out of my price range)
Some Ritchey Comp Logic drop handlebars to help with getting a bit lower into the wind, also much comfier over the longer distances. £20 from SJS. Complete with the cheapest bar tape I could find.
A new rear wheel, Rigida Flyer rims with King Kong track hub (£70 from SJS). Only got this because I destroyed the original wheel (well, the hub anyway - story for another time). Two good things about this wheel, no make that three: 1) sealed bearings, 2) it came with a 16 tooth sprocket - the Subway Zero is a 42:15 fixed and a 42:16 freewheel ratio. Since I've ridden fixed ever since I'd got home from Halfords I was fine with a new wheel being fixed only (the freewheel on the original wheel just rusted solid through lack of use) and the one tooth difference in fixed ratio has made the world of difference in coping with headwinds, etc. 3) It comes with proper tracknuts; that is a nut that grips both sides of the frame. The original wheel didn't and even with the chain tugs the chain slackened after a few weeks of riding.
A Zefal Swan Road Mudguard for £10. I only wanted the rear, but some how got the front as well. The front is pretty pointless, it doesn't do anything, but the rear works great - soggy bottoms are no fun after a few miles. It actually looks pretty good for a mudguard and can be attached and detached in seconds. Great for commuting, but no good if you were riding in a pack, etc as the bike behind would still get sprayed. I'd actually like full length mud guards, but again, quite expensive.
Vittoria Rubino 23mm slick tyres. £11 from SJS. The bike comes with 28mm tyres and I actually wasn't intending to go with anything thinner, but these were the cheapest decent tyres I could find. For winter, I'm going to get some Schwalbe Marathon Winter tyres from bike24 (can't find a UK stockist). Strictly speaking the rims on the wheels should only go up to 25mm wide tyres, but seeing as how the bike ships with 28mm tyres I'm going to risk a 35mm tyre. New rims/wheels just for winter are out of the question. A cross bike I'd love, comes with Mavic CXP23 rims and 35mm tyres and yet the rims are ERTO 622x15 and so should only go up to 32mm in theory. So I reckon it's worth a go.